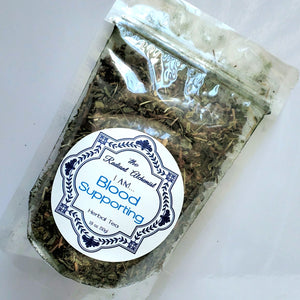 Blood Supporting Herbal Tea
A warm herbal blended tea with antioxidant rich ingredients that help fight damage & help clear the bloodstream of impurities, fight infection, clear inflammation, reduce blood sugar & cholesterol, lower blood pressure & filled with minerals, micronutrients & prebiotic properties. Some herbs in this blend include dandelion, nettle, sarsparilla, pau d'arco, chlorella & burdock. 
This product is not regulated by the FDA, nor is it intended to diagnose, cure, treat or remove disease. Please consult with your doctor before the consumption of any herbal teas, as to not interfere with current regiments. 
Regular price
$20.00
$0.00
Unit price
per
---